SEE HOW MY SPICES WORK IN ACTION 🔥
My signature smoked seasonings are versatile and blended with love. You do not need any special instructions or recipes to use them: simply finish any dish with a sprinkle of your favourite seasoning. Any dish will shine brighter with our spices: from pasta to fish and meat, from salads to baked goods. Add a new twist to your cooking and explore new horizons and flavour combinations.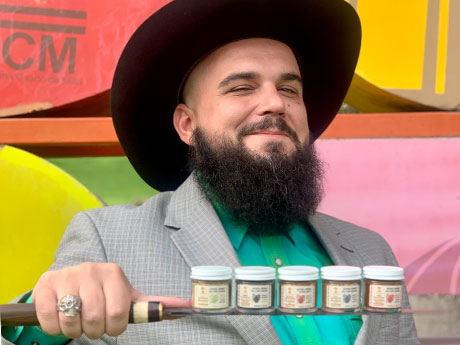 CHIEF CURATED PRODUCT
I set my own goal to create a product, dramatically different from that in the mass market. Exclusive recipes, premium-quality ingredients and an exciting story behind it - are the basis and a proof of my brand's valuability. El Volcano's story dates back to 2017, when I first started creating original tastes and elements by mixing as I was working in a Mexican smoke-house restaurant. Mexican culture,its traditions, history, smells and unique tastes were the main point of my menu a la carte. In general, people coming here are pretty basic food-wise, preferring something usual, what they are used to, avoiding leaving their comfort zone. That's how I decided to help to guide them all the way through Mexican cuisine and its peculiarities, to introduce them to the love and beauty of it, and draw their attention to the value of Mexico for the world of gastronomy and cultural exchange. There's a particular reason why Mexican cuisine is listed as one of UNESCO cultural heritage objects.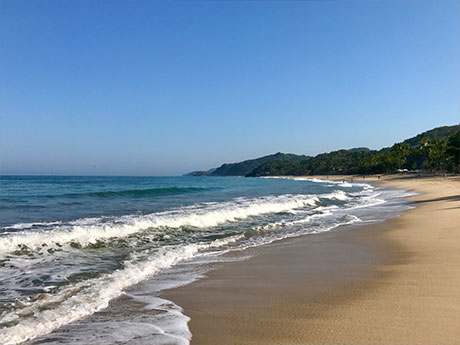 WHERE DID IT ALL START
My colleagues in the smoke house used to use an unusual type of salt - its crystals looked like snowflakes, the salt was crunchy and very tasty. Later I learned that it was fleur de sel, mined in Cuyatlan lagoons, Colima, that is located at the Pacific coast and is famous for its huge volcano called Del Fuego - the Fire. That salt crystallizes on the surface of water creating a thin crust, it is as tender and airy as merengue. It can be collected only 45 days a year, when there's little to no wind, therefore the perfect harvesting time is from 3 pm to 9 pm. Since the salt is unpurified, it is not only sodium chloride - more than 80 chemical elements constitute that mineral, which consequently change the taste of the food, while not giving it too much saltiness. That is why I fell in love with that salt.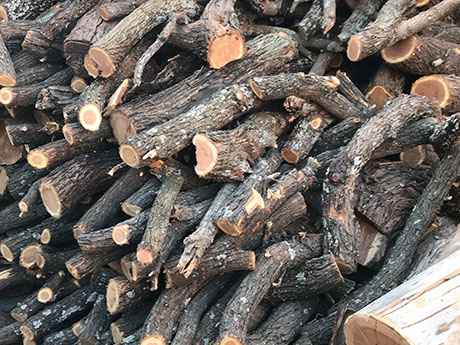 WHAT MAKES IT EVEN BETTER
I have found another mexican hidden treasure - mesquite - a small leguminous tree growing in the north-west of Mexico. It is one of the most expensive woods in the world, it can't be forested, it is only allowed to pick up its branches and bark that fell down itself; then the pieces are dried. Mesquite is highly valuable and widely used in cooking, because it burns slower, which facilitates slower food processing. That wood is also very common to be used at barbecue - the north of Mexico is considered the land of the grilled meat. You could never confuse the smell of smoking mesquite with anything else - it is unique, rich and deep. The more I cook with mesquite wood, the more I love it. Blending those two together we created smoked fleur de sel, as delicately, carefully and patiently as possible. Thin blue smoke, total burning to ashes, constant control - the result is expectedly great. The salt we get is delicious and fragrant, adding a soft smoky touch to any dish.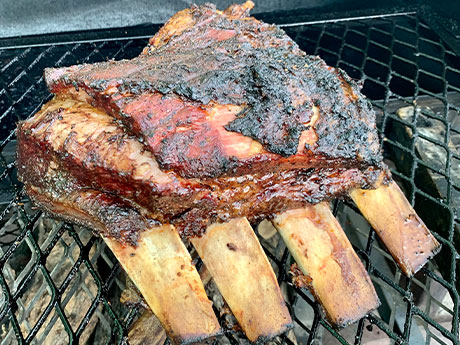 ABLE TO SURPRISE
As a result, the salt can highlight unique exotic tastes of Mexico. I consider gastronomy an art, and art is supposed to surprise and challenge, first of all. That's why our range of ingredients is bigger than 100, including local Mexican and imported from all over the world. You can travel to any corner of the Earth discovering unexpected tastes as often as every day. The Smoked Seasoning line from El Volcano is represented by 20 chef-made sophisticated taste combinations, inspired by the cuisines of the world. You can try such rare and extraordinary goods that you wouldn't even know existed before, or would never expect to have tried. All the spices are well-balanced, making it adjustable for every member of your family. You can also pick the level of spiciness, indicated at the jar. Rip off the tap, breathe in the rich smell, add it to your favorite dish and enjoy!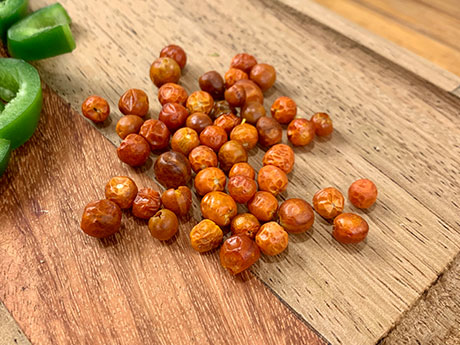 UNIQUE INGREDIENTS
I have found incredible ingredients from many corners of the planet and brought it to Mexico to create a precious mix of tastes, fragrances and emotions with the help of the treasures of the local cuisine. Would you try black garlic, wild pepper Chiltepin, mexican green tomatoes, epazote, annato, pink peppercorn or pear cactus leaves? Now wherever you go you could have it with your food - even in the ices of Antarctica or the Earth orbit station. As an expert, I dehydrate the ingredients with the highest level of accuracy, bringing the freshness, taste, smell and nutritional value to your dining table. I am responsible for the quality of each component and I am willing to introduce more people to the exquisite taste of handmade spices.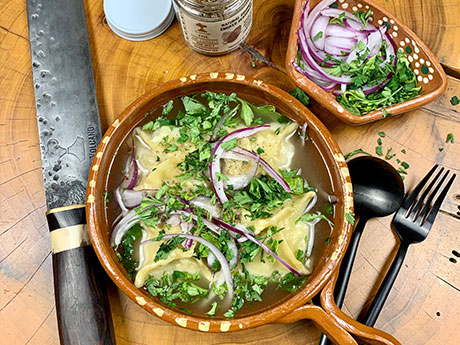 EASY TO USE
The spices are totally easy to use, it is not necessary to be a chef or have specific cooking skills to share the new tastes with your family and friends. Use the spices as a finishing touch over the cooked dish - or add it instead of just salt as you cook. To reach the best taste and fragrance we recommend grinding the salt in a mortar or any other way. In order to help you find your way in the Smoked Seasoning line, we provide basic information about the level of spice and the style of a specific country where the spice originates. Be prepared to get fascinated about your everyday dishes - the seasoning will alter its taste, giving a new twist to your favorite meal.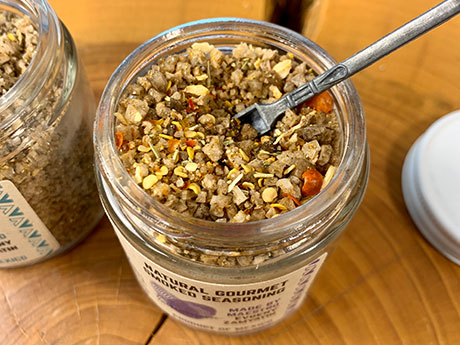 COMPLETELY HANDMADE
We smoke unrefined sea salt with mesquite wood, using only natural ingredients without synthetical elements, at the same time reducing the use of plastic packaging, substituting it with recyclable and reusable materials, with determination to completely switch to renewable energy. We respect the work of every person involved in the production of salt. From salt miners and farmers nurturing the crops to the factory workers mixing precious ingredients and packing your future product with their loving hands - their passion and care is bottled in every jar and we pay respect and fair market wage for their job, as well as supporting local small businesses. Bring your share in their work!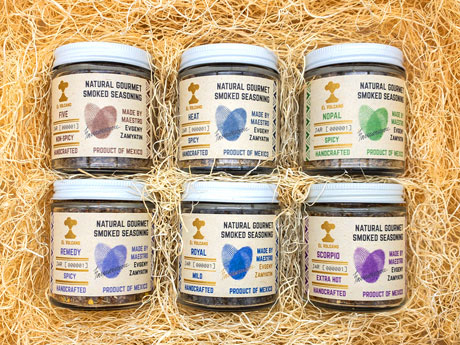 THE PERFECT GIFT
Would you want to stand out bringing a useful unique and memorable gift to your loved ones? Choose unforgettable emotions of fantastic tastes. Our smoked seasoning ends up on camping tables, in vacation resort canteens, in dining rooms at crowded parties and even in cafes and restaurants. Why? In case your steak or side salad is too bland. Trust me, I know what I am talking about - I use our Smoked Seasoning every day, my family loves them as well as my friends in more than 50 different countries. Instead of a drawer full of various spices you have to learn to combine first - you will just have a ready mix, which will turn anyone into a professional cook with an impeccable result as a dish. This present would be appreciated by anyone eager to eat delicious food.